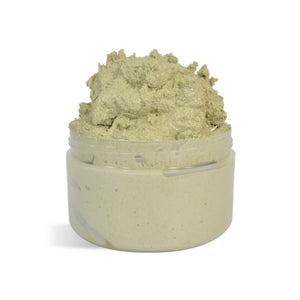 Skin Types:
Normal
Combination
Oily
Dry
Acne Prone
Sensitive
Problem
Purpose: Gently cleanses while removing makeup and impurities from skin.
Solutions for:
Dryness
Acne
Oiliness
Clogged Pores
Dark Spots
How To Use: Use 1-2x weekly. Apply a thin layer to clean, dry skin. Wait until dry (10-15 mins.), then rinse thoroughly. Follow up with toner and moisturizer.
Best Paired With:

Key Ingredients:
Aloe Vera: Soothes irritation & redness while retaining moisture.
Kale: Packed with Vitamins A, C, K, repairs tissue, reduces dark circles & firms skin.
Green Tea: Antibacterial & anti inflammatory benefits. Combats acne,
reduces redness & irritation.
Alfalfa: Nutrient rich, packed with vitamins that promote cell renewal, revitalizes dull skin & reduces scarring & hyperpigmentation.
Spinach: Rich in vitamins and antioxidants, promotes cell renewal, even complexion, also combats hormonal acne.
Citric Acid: Contains AHA (Alpha Hydroxy Acid), a gentle exfoliant derived from citrus fruit. AHAs are a great way to remove dead skin, reduce scarring & even skin tone.
See full list of ingredients here.