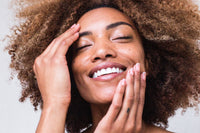 Self Love. Self Care. Skincare.
Beauty made easy with natural, healthy, skin loving ingredients. Being mindful of the products you use on your skin is self love.
Learn More
Testimonials
I received the Calendula bar and Tea Garden toner a few days ago and my experience has been mind blowing!! I have combination skin and it's very hard to find a product that provides proper hydration and balance to my skin w/o causing irritation! I highly recommend GLC!

Chloe
The "Striptease" Cleansing Oil is the GOAT! Like excuse me? Yall should go buy it. I'm so obsessed!

Todd
Let me just say GLC made an amazing Cleansing Oil and a little goes a long way. I've had my bottle for months and its only a quarter empty, not even halfway. Definitely a must cop.

Jasmine
Not only does GLC's hair oil stimulate growth, it soothes my scalp and is currently masking the scent of cigar smoke in my hair from last night!

Krystal
I always had issues with my skin here & there but I never really had a regimen. I met Evelyn 2 years ago & let her take the reigns using her brand, GLC & my skin literally glows daily. don't play yourself guys. get into it.

Amber
Pillow Talk is a game changer! Where tf has it been my whole life?!

Mariah
"Invest in your skin. It's going to represent you for a long time."